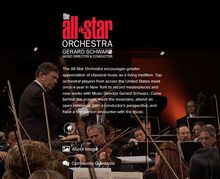 The All-Star Orchestra encourages greater appreciation of classical music as a living tradition. The topic is listed under both
partner content
and
humanities
. Top orchestral players from across the United States meet once-a-year in New York to record masterpieces and new works with Music Director Gerard Schwarz. Come behind the scenes, meet the musicians, attend an open rehearsal, gain a conductor's perspective, and have a first-person encounter with the music.
Learn more about this here.
Music basics
Masterpieces old and new
Instruments of the orchestra
Ad blocker interference detected!
Wikia is a free-to-use site that makes money from advertising. We have a modified experience for viewers using ad blockers

Wikia is not accessible if you've made further modifications. Remove the custom ad blocker rule(s) and the page will load as expected.