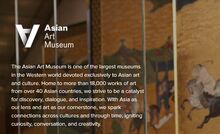 The
Asian Art Museum
is one of the largest museums in the Western world devoted exclusively to Asian art and culture. Home to more than 18,000 works of art from over 40 Asian countries, we strive to be a catalyst for discovery, dialogue, and inspiration. With Asia as our lens and art as our cornerstone, we spark connections across cultures and through time, igniting curiosity, conversation, and creativity. This is brought to the public in the
partner content
on Khan Academy.
You can see more here.
Introduction
South Asia
Southeast Asia
The Himalayas and the Tibetan Buddhist World
China
Korea
Japan
Hinduism
Buddhism
Islam
Art Conservation
Ad blocker interference detected!
Wikia is a free-to-use site that makes money from advertising. We have a modified experience for viewers using ad blockers

Wikia is not accessible if you've made further modifications. Remove the custom ad blocker rule(s) and the page will load as expected.