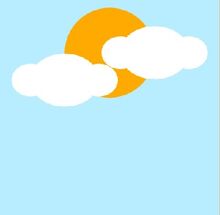 Challenge: Parting Clouds
is located in the animation section of the
Intro to JS
course on
Khan Academy
. In this challenge, the user animates clouds so that they part and reveal the sun. There are three steps in this challenge worth 2100
energy points
.
Change the clouds so they cover the sun. This is done by changing existing variables that hold the x locations for the clouds.
Animate the clouds moving out from the sun by using the new incrementing tricks like ++.
Make the sun get bigger every time it's redrawn in the draw function.
Ad blocker interference detected!
Wikia is a free-to-use site that makes money from advertising. We have a modified experience for viewers using ad blockers

Wikia is not accessible if you've made further modifications. Remove the custom ad blocker rule(s) and the page will load as expected.