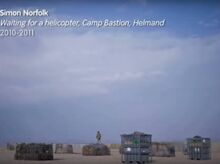 Conflict and Contradiction in Art is a section of the Tate partner content on Khan Academy where photojournalism in areas of war and high conflict is highlighted.
Introduction
Activities
Art and Conflict
Documenting Conflict (linked directly to YouTube)

Shai Kremer in and Israeli military training stage
Burke and Norfolk: Photographs from the war in Afghanistan
Hrair Sarkissian: Syria's "Execution Squares"

Challenging the State

Han Haacke: "A Breed Apart" in South Africa
Doris Salcedo's "Shibboleth"
Mounted police and crowd control at Tate Modern
"Immigrant Movement International": Nationalism and Immigration in the gallery.
Wang Peng: Performance as politics in China and beyond

Creating Contradiction

Michael Rakowitz on Star Wars and Saddam Hussein
Peter Kennard's political phomontages
Personal memory versus political history in Eastern Europe
Mona Hatoum's self-contradictory objects
Ad blocker interference detected!
Wikia is a free-to-use site that makes money from advertising. We have a modified experience for viewers using ad blockers

Wikia is not accessible if you've made further modifications. Remove the custom ad blocker rule(s) and the page will load as expected.