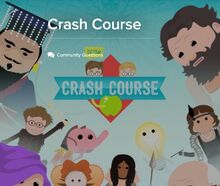 Crash Course is probably the most popular Partner from the partner content on Khan Academy. These videos are also listed in Humanities and Science.
Crash Course World History

John Green: host.
The expression DFTBA comes from this partner and Crash Course.
DFTBA stands for "Don't Forget To Be Awesome"
The course has an ongoing joke about how the Mongols are the exception to everything.
The Mongol comments usually come as, "Wait for it - The Mongols." Then they charge in saying "We're the exception!"
The DFTBA site sells T-shirts about the mongols expression.

Crash Course Biology and Ecology

Hank Green host
Biology and Ecology are the subsections

Crash Course Chemistry
This content can be found on Khan Academy here.