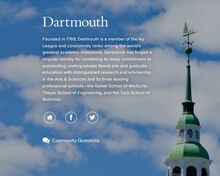 Founded in 1769, Dartmouth is a member of the Ivy League and consistently ranks among the world's greatest academic institutions. Dartmouth has forged a singular identity for combining its deep commitment to outstanding undergraduate liberal arts and graduate education with distinguished research and scholarship in the Arts & Sciences and its three leading professional schools - the Geisel School of Medicine, Thayer School of Engineering, and the Tuck School of Business.
Learn Algorithms with Dartmouth College
Edit
In this collaboration with Dartmouth college professors Tom Cormen and Devin Balkcom, Khan Academy is offering an introduction to computer science algorithms, including searching, sorting, recursion, and graph theory. This video is currently the only video in the Dartmouth content.