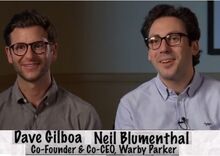 Along with two other men, Dave Gilboa and Neil Blumenthal formed Warby-Parker. Dave was taking a plane to a backpacking trip and left his glasses on the plane. He was just about to start grad school and couldn't afford the $700 pricetag for new glasses. He actually spent that first semester doing without - and squinting a lot.
Warby-Parker is about reducing the price of glasses from around $700 to about $95. Interestingly enough, while their video discusses them competing on price, it seems they are located in swanky upscale neighborhoods, as they have a store on the Upper East Side, one of New York City's more upscale sections. They also have a shop in Buckhead, a district in Atlanta, which is another affluent area. Their locations are listed here.
None of the founders are named Warby or Parker. So where did they get their name? From a book, that's where. Dave was wandering around a Jack Kerouac exhibit at the library, and among some old journals and manuscripts noticed the names Warby Pepper and Zagg Parker. He found the names interesting, and chose to name the company with them.
In this video, a guy named Tom that teaches Italian on YouTube, tells us that he is getting his glasses at Warby-Parker.
Ad blocker interference detected!
Wikia is a free-to-use site that makes money from advertising. We have a modified experience for viewers using ad blockers

Wikia is not accessible if you've made further modifications. Remove the custom ad blocker rule(s) and the page will load as expected.