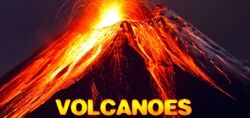 Earthquakes and Volcanoes
Over millions of years, ocean basins open and close, continents move and change shape, and mountains are pushed up and eroded away. Such dynamic processes continually reshape the surface of the Earth. The movement of rigid plates on the Earth's surface, known as plate tectonics, is the cause of these changes. Volcanic eruptions and earthquakes are dramatic hints of the great movements that take place over the vastness of geological time. American Museum of Natural History has brought you some materials to learn more about these processes.
Learn more about this on Khan Academy or the museum's website.
Ad blocker interference detected!
Wikia is a free-to-use site that makes money from advertising. We have a modified experience for viewers using ad blockers

Wikia is not accessible if you've made further modifications. Remove the custom ad blocker rule(s) and the page will load as expected.