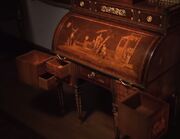 On what did the rulers of late eighteenth-century Europe spend their money? On wars, palaces, and the arts—but also extravagant mechanical furniture. Both the King of Prussia and the Empress of Russia entertained themselves and their guests with ingeniously concealed and automated drawers as well as hidden compartments built within some of the most elegant desks and tables ever devised.
The videos can be found on Khan Academy or YouTube.
Demonstration of David Roentgen's Automaton of Queen Marie Antoinette, The Dulcimer Player
Demonstration of the Roentgens' Dressing Table (Poudreuse)
Rolltop Desk by David Roentgen (demonstration)
Rolltop Desk by David Roentgen (animation)
Unfolding an 18th-century Game Table
Created by The Metropolitan Museum of Art.
Ad blocker interference detected!
Wikia is a free-to-use site that makes money from advertising. We have a modified experience for viewers using ad blockers

Wikia is not accessible if you've made further modifications. Remove the custom ad blocker rule(s) and the page will load as expected.