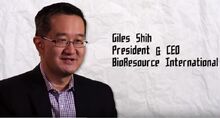 Giles Shih created BioResource, which produces a natural enzyme to make chickens and pigs digest their food more efficiently. However, as Mr. Shih states, they "are not just making bigger chickens, they are feeding the world."
Learn more on Khan Academy here
Ad blocker interference detected!
Wikia is a free-to-use site that makes money from advertising. We have a modified experience for viewers using ad blockers

Wikia is not accessible if you've made further modifications. Remove the custom ad blocker rule(s) and the page will load as expected.