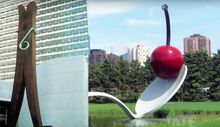 Global Modernisms describes the art that emerged in the 1950s that is called Modern Art and Pop Art. Tate has partner content where you can learn more about it.
Introduction - Discover a multitude of art histories and practices from around the world at Tate. Learn more and meet these modern and contemporary artists from Africa, Latin America, Asia, and the Middle East who are challenging norms, bridging societies, and working and thinking globally.
Pop art around the world
Africa
Latin America
Asia
The Middle East
Ad blocker interference detected!
Wikia is a free-to-use site that makes money from advertising. We have a modified experience for viewers using ad blockers

Wikia is not accessible if you've made further modifications. Remove the custom ad blocker rule(s) and the page will load as expected.