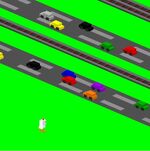 He's a Canadian Christan homeschool kid. He likes Math, Science, and computer programming. He has an arcade program called "An endless arcade!". He'd also recently reached the top of the hot list with his program of a movie theatre, with a movie about Oh, Noes, Khan Academy's error buddy.
His profile can be reached here
Khan Academy Highlights
Edit
He has a game called Locked Out which is his own personal favorite creation. It took him almost 2 months to finish.