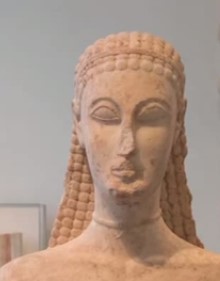 Met curator Joan R. Mertens on self-reliance in Marble Statue of a kouros (youth), c. 590–580 B.C.E. from the Attic culture of ancient Greece.
This kouros is one of the earliest marble statues of a human figure carved in Attica. The rigid stance, with the left leg forward and arms at the side, was derived from Egyptian art. The pose provided a clear, simple formula that was used by Greek sculptors throughout the sixth century B.C.E. In this early figure, geometric, almost abstract forms predominate, and anatomical details are rendered in beautiful analogous patterns. The statue marked the grave of a young Athenian aristocrat.
View this work on metmuseum.org.
Created by The Metropolitan Museum of Art.
The video can be found on KA and YouTube.
Ad blocker interference detected!
Wikia is a free-to-use site that makes money from advertising. We have a modified experience for viewers using ad blockers

Wikia is not accessible if you've made further modifications. Remove the custom ad blocker rule(s) and the page will load as expected.