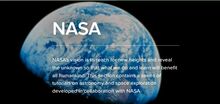 NASA's vision is to reach for new heights and reveal the unknown so that what we do and learn will benefit all humankind.
This partner content section contains a series of tutorials on astronomy and space exploration developed in collaboration with NASA.
Learn more about this here.
Welcome to NASA mission control
Measuring the universe
Exploring the universe
Ad blocker interference detected!
Wikia is a free-to-use site that makes money from advertising. We have a modified experience for viewers using ad blockers

Wikia is not accessible if you've made further modifications. Remove the custom ad blocker rule(s) and the page will load as expected.