Raumaankidwai, or RK, is a user of Khan Academy.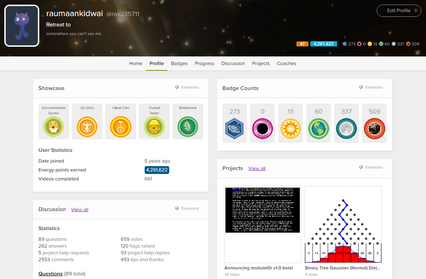 Khan Academy Highlights
Edit
His profile can be found here.
Had one program with near 80 votes (Maze).
Raumaankidwai has one of the highest amounts of Challenge patches.
Raumaankidwai is one of the first users to join Khan Academy, having joined on November 14, 2011.
Raumaankidwai has over 40 retired badges, including Magellan (old), Master of Arithmetic, and Master of Precalculus.
Raumaankidwai has 1,100+ skills mastered, and has almost completed the entire World of Math.
Ad blocker interference detected!
Wikia is a free-to-use site that makes money from advertising. We have a modified experience for viewers using ad blockers

Wikia is not accessible if you've made further modifications. Remove the custom ad blocker rule(s) and the page will load as expected.