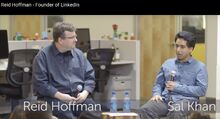 Reid starts off saying he never expected to become an entrepreneur. Instead, he recounts his coming of age and love of Dungeons and Dragons. Others go away to college. Reid went away for his last 3 years of high school, but having grown up in the bay area, went to college locally by attending Stanford.
Ad blocker interference detected!
Wikia is a free-to-use site that makes money from advertising. We have a modified experience for viewers using ad blockers

Wikia is not accessible if you've made further modifications. Remove the custom ad blocker rule(s) and the page will load as expected.