The SAT math and reading tests are located in the Test Prep section on Khan Academy. They are divided into four practice exams, each composed of eight sections. In each practice exam, there are four reading and four math sections that range from 16 to 24 questions. This new feature is not available to the general public and is only available through this link.
Directions:
Edit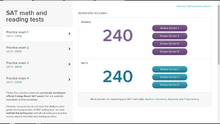 "Welcome to Section 2: Reading
This section has # questions and is # minutes total.
You can click "Directions" during the test to call up that information.
The timer will keep running once you start this section, but the next section will not automatically start."
After you've completed a test, you can check your progress on the test and figure out what you the correct answers were to the questions you got incorrect.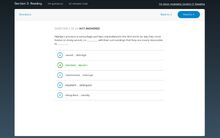 Ad blocker interference detected!
Wikia is a free-to-use site that makes money from advertising. We have a modified experience for viewers using ad blockers

Wikia is not accessible if you've made further modifications. Remove the custom ad blocker rule(s) and the page will load as expected.