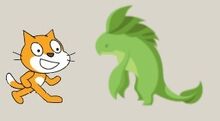 Many consider it a question of which is better. They are both sites that teach programming. However, they are very different. Each has its own purpose.
Scratch is a better site for sound and animation, so one would use it to add animations and photographs to music they composed or perhaps a religious piano piece that one recorded. Also, the Scratch site teaches programming through plain English blocks-not code. It's designed for younger users, primarily 8 to 16 years of age. However, they welcome users of all ages.
Whereas, the Computer Science section of Khan Academy is about learning to code. They prohibit uploading files to JS programs. They do have a library of sounds that a user can incorporate. However, many users do not know about it. Users that do know about it, find that there is not adequate selection for their programming desires. The Khan Academy site itself is not designated as a children's website. This conclusion can be reached by the designation into a child account for users under 13 years of age. Child accounts are restricted from interacting with others on the site. The code with blocks course is designed for ages 8 and up and may be sponsored by code.org which *IS* a children's site.
One can also take programs or pieces of programs written on Khan Academy and apply them to a Scratch project, as in here or here.