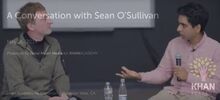 Sean O'Sullivan is currently well known in Ireland for being on "Dragon's Den" which is similar to "Shark Tank." On that show, sucessful entrepreneurs review the plans for aspiring entrepreneurs and decide if they want to buy into their company and then arrange that deal if they wish.
In this forty-five minute interview, Mr. O'Sullivan tells about growing up poor in upstate New York with eight brothers and sisters. He tells about cold winter nights huddled with siblings while a wood stove heated their home. However, he was able to go to technical college.

Ad blocker interference detected!
Wikia is a free-to-use site that makes money from advertising. We have a modified experience for viewers using ad blockers

Wikia is not accessible if you've made further modifications. Remove the custom ad blocker rule(s) and the page will load as expected.