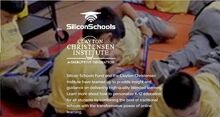 Silicon Schools Fund and the Clayton Christensen Institute have teamed up to provide insight and guidance on delivering high-quality blended learning. Learn more about how to personalize K-12 education for all students by combining the best of traditional schools with the transformative power of online learning. These two groups have further teamed up to bring this content to Khan Academy users.
Learn more about this here
Introduction to blended learning
Creating the ideal student experience in a blended learning classroom
Teaching in a blended learning environment-rethinking the role of the teacher
Redesigning a school toward blended learning
Making aligned hardware, software, and space decision in a blended learning environment
Ad blocker interference detected!
Wikia is a free-to-use site that makes money from advertising. We have a modified experience for viewers using ad blockers

Wikia is not accessible if you've made further modifications. Remove the custom ad blocker rule(s) and the page will load as expected.