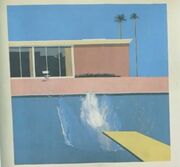 Filmmakers, poets, photographers, and designers – they're all artists in their own right. But what happens when some of today's leading creatives come face to face with works of art in the Tate collection? Take a look into the nature of creative inspiration, watch new forms take shape, and have a go at crafting and sharing your own inspired works of art.
Tate has content to inspire you.
Introduction
Film meets art
Fashion meets art
Literature meets art
Art and appropriation
Learn more about this on Khan Academy.
Ad blocker interference detected!
Wikia is a free-to-use site that makes money from advertising. We have a modified experience for viewers using ad blockers

Wikia is not accessible if you've made further modifications. Remove the custom ad blocker rule(s) and the page will load as expected.