The J. Paul Getty Museum seeks to inspire curiosity about, and enjoyment and understanding of, the visual arts by collecting, conserving, exhibiting and interpreting works of art of outstanding quality and historical importance. To fulfill this mission, the Museum continues to build its collections through purchase and gifts, and develops programs of exhibitions, publications, scholarly research, public education, and the performing arts that engage our diverse local and international audiences. All of these activities are enhanced by the uniquely evocative architectural and garden settings provided by the Museum's two renowned venues: the Getty Villa and the Getty Center.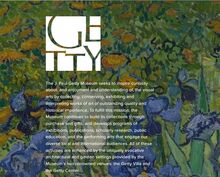 The Getty Museum has a partnership with Khan and is found here.
Antiquities
Manuscripts
Art conservation
Paintings
Decorative arts
Sculpture
Photographs
Drawings
For kids
Ad blocker interference detected!
Wikia is a free-to-use site that makes money from advertising. We have a modified experience for viewers using ad blockers

Wikia is not accessible if you've made further modifications. Remove the custom ad blocker rule(s) and the page will load as expected.