In case you hadn't noticed, I got Tesla the other day. As you can see the time stamp to state I got it at 23:46 UTC time, that was 7:46 Eastern-my time.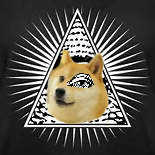 I've already moved to other sites. I'm working on a cool project on
Scratch
. Learning Scratch also means improving my skills in MS Paint, Paint.net-pronounce paint-dot-net and it's the most popular free photoshop alternative and I'm learning my free version of Photoshop. I'm getting really good and using the layers tool to make awesome graphics. I made the illumin-doge-inati to the right for
AJ
, as well as my "Tesla versions" of my previous profile pics by using this layers in Paint.net.
In Duolingo, I'm reviewing French and Spanish and I'm learning Italian and Russian. I've also just started using sololearn for computer type skills, I was previously studying in Khan Academy's coding section. Oh, and I'm using the typing club to try to up my typing speed by spending time on lessons for the keys with which I'm weak.
Just a reminder, KAOS is about skills onliine and even offline skills to add to online sites (like graphics skills). Also, I've been learning a lot from YouTube videos.
Ad blocker interference detected!
Wikia is a free-to-use site that makes money from advertising. We have a modified experience for viewers using ad blockers

Wikia is not accessible if you've made further modifications. Remove the custom ad blocker rule(s) and the page will load as expected.