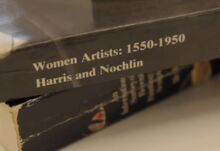 Women in Art and Art History is partner content from Tate.
Across time, space, and culture, in every corner of the globe, women have been involved with making art. Whether as creators and innovators of new forms of artistic expression, patrons, collectors, leaders, sources of inspiration, or significant contributors as art historians and critics, women have been and continue to be integral to the institution of art. Learn about the struggle for women to be recognized as part of the artistic canon, meet the women artists who are shaping the discipline, and see how art can be a platform for tackling women's issues today.
At least one video in this playlist contains nudity beyond regular artistic nudity and is not suitable for children and most teenagers.
Activities
A Brief History of Women in Art
Women as Artists
Women's Issues in Art
Learn more about this on the Tate section on Khan Academy.
Ad blocker interference detected!
Wikia is a free-to-use site that makes money from advertising. We have a modified experience for viewers using ad blockers

Wikia is not accessible if you've made further modifications. Remove the custom ad blocker rule(s) and the page will load as expected.